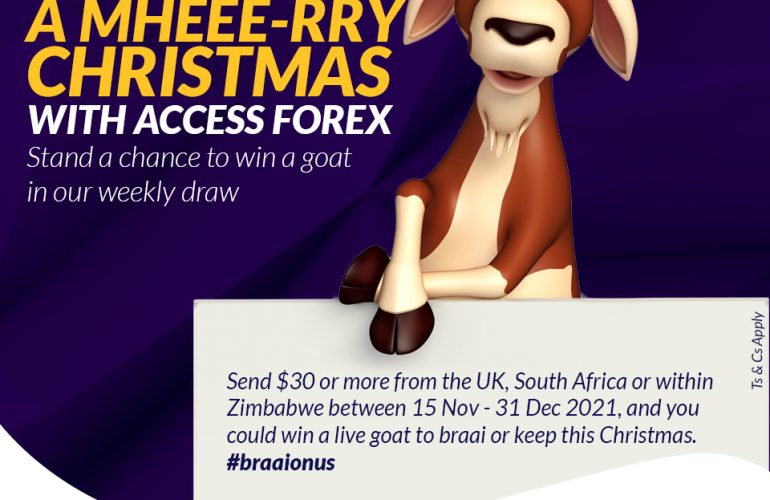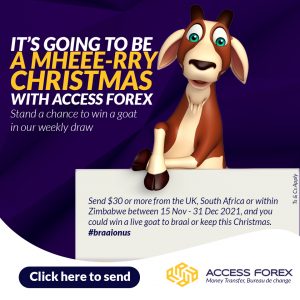 As far as Access Forex is concerned, this festive season is a G.O.A.T. (Greatest Of All Time). This is a huge claim for a fluffy animal, but Access Forex has positioned this little 4-legged creature to "change the way we Christmas".
Through an exciting new Campaign it has called "Mheee-rry Christmas". Clients sending $30 or more with the well-known money transfer company stand a chance to win a live goat. While Access is encouraging winners to feast and have a braai, this promotion also presents a very clear opportunity for those with an entrepreneurial spirit.
"Many of our clients have families who depend on them not just for a Christmas feast but also the school fees and bills that follow in January, so this promotion means that if you plan your remittances well, your family will have a sustainable way of taking care of themselves and supplementing the hard-earned money sent from the diaspora", said Access Forex Head of Sales & Marketing, Shingai Koti.
The demand for goat meat is increasing. People want to try a different type of meat other than beef, chicken or pork. Since goats eat a variety of foods, they are easy to keep and are very profitable. The feed costs for goats are also low. All you need to start a goat business is land, reliable source of clean water and good housing with proper ventilation. The local market for goats has grown considerable. One can supply goat meat goats to companies, individuals, hotels, restaurants, supermarkets, abattoirs and butcheries. As a country Zimbabwe is not yet producing enough goats that fully utilise the export market. Apart from the local market one can also export goats to other countries such as United Arab Emirates, Indonesia, Angola and Kuwait.
The Access Forex promotion is running for clients in South Africa, Zimbabwe and the UK from the 15th of November 2021 to the 31st of December 2021 with winners announced weekly. The more one sends, the more chances of winning.
Whether you win one GOAT or several, Access Forex has you covered this festive season, and beyond.
Click here to view the Ts & Cs